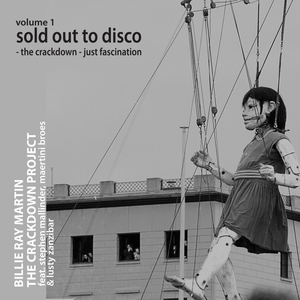 Formats:
192KB/S MP3
320KB/S MP3
WAV
FLAC
ALAC
AIFF
Review
This is a rather starry love-in featuring former Electribe 101 and S'Express singer (and obviously solo star) Billie Ray Martin and Stephen Mallinder, frontman and founder member of Cabaret Voltaire. Produced by the Maertini Bros, the Crackdown Project Volume 1 is essentially a sneak preview of a full album coming soon.

Perhaps the impetus for the deep tech-house production might be Billie Ray Martin's burgeoning DJ career, since she's currently spinning Deep Electro and Tech around the world. Either way, her huge soulful vocals are still on great form - just one listen to the slinky Electro of The Crackdown will confirm it. But it's the cover of Cabaret Voltaire's Just Fascination that is the real treasure here. Given a slow, Lil Louis-styled beat, the song oozes sleaze and soul in equal measure, and polishes over the jagged edges of the original.

The Copycat remix of Just Fascination gives it a more thumping, club-ready feel with a sped-up Dub version for DJ's, while the Celebrity Murder mix adds a Frankie Knuckles-sequence for a more Balearic feel. Mash-up kings Divide and Kreate leave the bootlegging for another day on their mix, instead layering the track with some shuffling Techno chords that work nicely with Billie Ray's vocals. And on a chilled tip, Flying White Dots slows things down and creates a beautiful and warm ambient mix that really tugs at the heartstrings - a perfect way to round off this varied but highly enjoyable EP.
Get new release alerts
Billie Ray Martin feat Lusty Zanzibar/Stephen Mallinder/Maertini BroesDisco Activisto Germany
DRM Free
DJ-friendly full length tracks
Secure Shopping
What is Album Only?
Some artists and labels prefer certain tracks to be purchased as part of an entire release. These tracks cannot be purchased individually but are available to download as part of the release