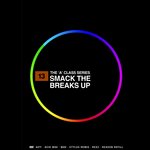 Product Information:

Smack The Breaks Up is sample library of over 400 beefy and smashed up break loops. The sample library exhibits a selection of loops from NYC's finest drummers. The loops have been painstakingly processed through a selection of compressors, distortion boxes, amps, pre-amps, EQs, assorted outboard equipment, and even some guitar pedals. The equipment has been both used and abused to in order to add a chemical grunge that is second to none. This sample library is an essential tool for producers that are looking for massive sounding drum loops to smack through on the club sound system. Because the library is not genre specific it could be a useful tool for any producer in need of some phat, grungy, distorted, or down right nasty drum loops. The loops have been sorted into themes and presented on the DVD in multi-format for easy integration into your studio environment.

This multi-format library is over 2.19 GB in size, with 270 MB of original material.
Recorded 44.1 kHz // 24 bit. Containing 400+ Audio Samples and 400+ REX2 Loops.
Royalty-free lifetime license
ZIP archive download