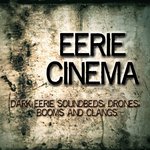 Product Information:

Inspired by all the great scary movies and the music that makes them have such impact, Eerie Cinema is perfect for any composer
seeking to add Dark Eerie Cinematic elements to their music.
From long evolving soundbeds (each over a minute in length) to disturbing drones, big deep booming hits and creepy clangs, this Eerie cinematic library
will add just that creepy scary horrific element you need. Ideal for use in film, trailers, television and video game composing. Recorded and edited
using our state of the art recording studio, Eerie is a must have Cinematic library for all types of music composers who want to add just
the perfect sonic texture to their creations.
Also ideal for use in all music productions from ambient, electronic, Rock and Metal.
Eerie Cinema was created by Hollywood Loops founder and Grammy Award nominated composer Scott Rockenfield. Scott has been creating music for
films, trailers, and video games for over 20 years now. He recently scored some additional music for the "Call Of Duty:Black Ops" video game released
2010 which has gone on to sell over $1Billion. Scott is currently composing music for some of hollywoods biggest film trailers coming soon.
Library features:
1.75 Gb total content (880 original Wav files)
30 Sound Beds (each over 1 minute in length)
22 Drones
31 Clangs
19 Boomers
4 Kontakt Layouts
24-Bit 44 khz WAV files
Suitable for Ambient, Cinematic, Dubstep, Hardstyle, Soundscapes etc.
Royalty-free lifetime license
ZIP archive download