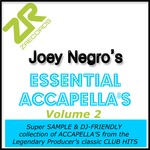 Product Information:

Z Records are giving away the SECOND album full of classic Z Accapellas so you can spend more time locked away producing your own remixes and dj mixes.

The album contains yet more accapellas from legendary vocalists taken from the vaults of the Z Records catalogue...

The album will only be available for a limited time so don?t delay, download your copy now.

The accapellas are free to download and for you to use in your productions and mixes but if you want to use them commercially please contact Z Records.
Royalty-free lifetime license
ZIP archive download