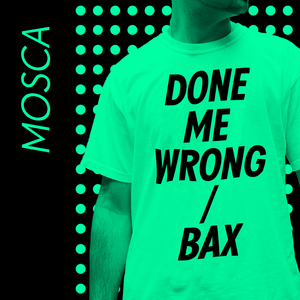 Cat:
NMBRS 16
Released:
19 September, 2011
Genre:
UK Garage
Formats:
192KB/S MP3
320KB/S MP3
WAV
FLAC
ALAC
AIFF
Review
The latest release from the Glaswegian imprint adds a further sheen of excellence in a year where Numbers has really knuckled down and concentrated on a schedule of multi faceted releases. Such has been the demand for Mosca's debut on the Numbers imprint, the London based producer cheekily took to touting advance DJ copies of Do Me Wrong via Facebook. Both tracks here are fully poised for the floor, priming a throwback Bassline / UK G swing dipped in a nowness from Mosca that's been evident on drops for Night Slugs and Fat City. Unusually, it's the B Side that's garnered the most attention, which is odd as "Done Me Wrong" is excellent, reigning in vintage female hollerations over clipping rhythms, swamping basslines and parping synths that pay homage to the classic "RIP Groove". Flipside, the more celebrated "Bax" is a dual assault on your senses, murky sub bass jabbing at your ribs, whilst the sweet cooing vocals whisper sweet nothings in your ears. All this is underpinned by a skipping mid 90s flex heavy on the neon stabs that has warehouse jam written all over it.
Get new release alerts
MoscaNumbers
played by
Odiggity - Tram Trax
,
Monkey Beats
,
Tiptoes
,
DJ Cable
,
Marcel Knopf
,
Alkalino
,
Dan Oh
,
Juno Recommends UK Garage
,
Juno Classics
,
Juno Classics
,
Vorres (Vrrs)
,
Commodore 69
,
Attack Yourself!
,
Boska
,
Bunny On Acid
,
Urban Knights
,
GSD
,
KRY WOLF
,
Breakbeat.is
,
West Norwood Cassette Library
,
Bilanez Music
,
Mistaken Identity
,
DJ Q
,
Tik & Borrow
DRM Free
DJ-friendly full length tracks
Secure Shopping
What is Album Only?
Some artists and labels prefer certain tracks to be purchased as part of an entire release. These tracks cannot be purchased individually but are available to download as part of the release