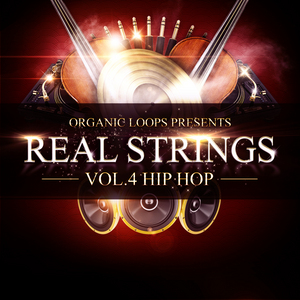 Product information
Organic Loops and Loopmasters are proud to present the 4th in this series of highly acclaimed String releases, which sees Pete Whitfield return for another incredible collection of highly versatile real string samples this time full of Urban Flava! - suitable for producers of Hip Hop, RnB and Modern Urban Productions.

Real Strings 4 - HipHop is the brand new sample pack of quality scored string ensembles by Pete Whitfield. These authentic samples were recorded in Pete's studio where he records real strings for major labels, TV companies and radio/media companies as a highly sought after arranger, in fact the strings for Kanye West's Track, To The World were recorded by Pete and so you can guarantee you are in for a treat with Real Strings Vol 4 Hip Hop.

Now is your chance to ditch those cheesy keyboard workstation string sounds and drop the real deal into your productions, with every nuance and feel that comes from a live performance, these string samples will raise your productions and give you hands on control of powerful, emotive String ensembles that could launch you into the Hip Hop Hall Of Fame!

Recorded in 24Bit 44.1 KHz, at tempos between 75-100BPM in Minor and Modal keys to maximise emotion. Each file is tempo, and key labelled with extra descriptions including things like flowing, pizz, pulsing, rhythm, riff, bold, simple, disco, classical etc. Loops are also identified as full or stripped down versions - high or low.

In the Pack Not only do you get a folder of Full ensembles with two stripped back versions of each loop, you also get a folder of phrases including things like arps, endings, intros, swells and more, plus you get all the Scores in MIDI, PDF and Sibelius versions.

In Detail expect to find 249 Full Loops, 72 Phrase Loops, 321 Rex2 Files 12 MIDI Files, 12 PDF Scores and 12 Sibelius Scores.

The Real Strings collection has the ability to connect to the soul with bona fide honesty and is guaranteed to make your productions come alive. See the other Real String volumes and the feedback they have been getting to make sure you know that you are getting only the very best quality libraries from Loopmasters every time.

Tech Specs:
716MB
24Bit Quality
249 Full Loops
72 Phrase Loops
321 Rex2
12 MIDI Files
12 PDF Scores
12 Sibelius Scores

This pack is available in WAV and Apple Loops formats.
Get new release alerts
Organic LoopsOrganic Loops