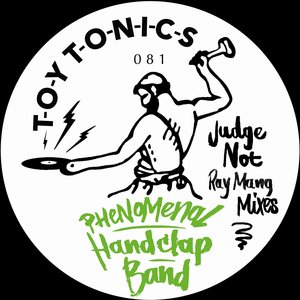 Formats:
192KB/S MP3
320KB/S MP3
WAV
FLAC
ALAC
AIFF
Review
Just seeing the words 'Phenomenal Handclap Band' and 'Ray Mang' on the same release will be enough to get disco lovers' musical tastebuds tingling, and the results of this heavy-hitting hook-up - which rumour has it trails a new album - don't disappoint. Across four mixes (plus a Radio Edit) he variously pulls out the track's disco, gospel and house-y elements, with his Disco Mix the choice for straight-up disco floors, the Special Mix the pick for the Balearic crew and the Reprise the one for house clubs, with an Instrumental Mix also supplied to cater for anyone who finds the vox a little OTT.
Get new release alerts
Phenomenal Handclap BandToy Tonics
played by
Dj XS (FVUK)
,
Dave Lee ZR
,
FINGERMAN
,
YAM WHO?
,
RocknRolla Soundsystem
,
Flash Atkins
,
Flevans
,
Juno Recommends Funky House
,
Giant Cuts
,
Ray Mang
,
Gouranga
,
J&M BROTHERS
,
JKriv (Razor-N-Tape)
,
Rayko
,
Limpodisco
,
Alan Dixon
,
LeSale
,
BRENDON P
,
LEGO EDIT
,
80's Child
,
Stephen Richards (DiscoDaze)
,
That Needs An Edit/Pete Le Freq
,
Andy Buchan
,
Chuggin Edits
,
Sould Out
,
Paper Street Soul
DRM Free
DJ-friendly full length tracks
Secure Shopping
What is Album Only?
Some artists and labels prefer certain tracks to be purchased as part of an entire release. These tracks cannot be purchased individually but are available to download as part of the release