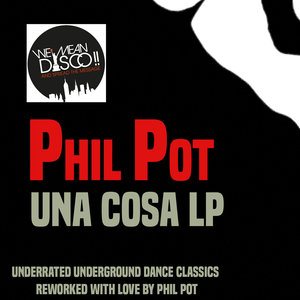 Formats:
192KB/S MP3
320KB/S MP3
WAV
FLAC
ALAC
AIFF
Review
Phil Pot is, as far as we can make out, a relative newcomer to the scene, with just a couple of re-edit EPs (also on We Mean Disco!!) to his name. Now he serves up seven more of 'em, albeit the only one we can identify the source of is 'Cocaine', which reworks Escort's nu-disco take on the Dillinger reggae classic. The rest of the album seems mostly to mine late 70s/early 80s Eurodisco for inspiration, with lots of foreign language vocals and lounge-y flourishes - the most notable exception to the slightly fromage-tastic rule being 'Liebe', which is a proper disco-house energy booster and no mistake, guv'nor.
Get new release alerts
PHIL POTWE MEAN DISCO!!
DRM Free
DJ-friendly full length tracks
Secure Shopping
What is Album Only?
Some artists and labels prefer certain tracks to be purchased as part of an entire release. These tracks cannot be purchased individually but are available to download as part of the release