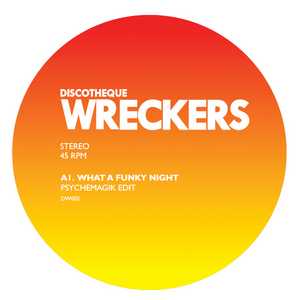 Formats:
192KB/S MP3
320KB/S MP3
WAV
FLAC
ALAC
AIFF
Review
These guys have been flying the flag for quality amongst the disco re-edit community for a while now. This two-tracker is being hailed as one of their best yet, with the title track being a lean, super-perky chopped up floor filler with infectious female vocals and a just-go-with-it Euro-rap. The second cut is from the other side of the tracks: it's the type of slow n sleazy new wave-disco tune you can imagine in a dark early 80s New York fleapit, where the cast of Liquid Sky hang and dance in a beautifully nonchalant manner.
Get new release alerts
PsychemagikPsychemagik
played by
George Kelly
,
Spec.
,
Valique
,
Andrew Allsgood (Free Association)
,
Roberto Rodriguez (Manolo)
,
Juno Recommends Disco
,
James Curd
,
Juno Classics
,
Alessandro Otiz
,
DIONIGI
,
CC:DISCO!
,
Dirty McKenzie
,
Dynamicron (Los Grandes/Our Nights)
,
Future Feelings
,
Philosophy Of Sound
,
Kono Vidovic
,
Nu Disco Fever
,
Robbie Hardkiss
DRM Free
DJ-friendly full length tracks
Secure Shopping
What is Album Only?
Some artists and labels prefer certain tracks to be purchased as part of an entire release. These tracks cannot be purchased individually but are available to download as part of the release