DRM Free
DJ-friendly full length tracks
Secure Shopping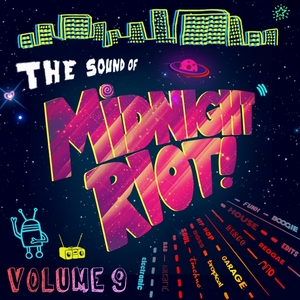 Formats:
320KB/S MP3
WAV
FLAC
ALAC
AIFF
Review
There's a reason that Midnight Riot's eponymous compilations frequently charge to the top of the Juno Download charts. Put simply, they never disappoint. This ninth installment sticks to the now tried-and-tested formula - house-friendly re-edits and originals from across the disco, boogie, soul and funk spectrum - but predictably hits the spot throughout. As usual, there's a bonus mix - this time put together by globe-trotting scalpel jockey Rayko - and tracks come from both label regulars ('80s Child, Ziggy Phunk, Chewy Funk) and an impressive array of new or unheralded talents. It's in the latter category that you'll find some of the most impressive fare - see Phil Jaimes deliciously Balearic "Nowhere To Hide" and Cosmocomics' kaleidoscopic synth-funk jam "Mary Jane" - though the standard remains pleasingly high throughout.
Get new release alerts
Rayko/VariousMidnight Riot
played by
Hakatone
,
Groove Motion
,
Valique
,
FINGERMAN
,
YAM WHO?
,
Dr Packer
,
Juno Recommends Disco
,
TURNTILL
,
Jay Ru
,
Evil Smarty
,
Dino Soccio
,
Coutel
,
Massimo Vanoni (The Smoker)
,
Ziggy Phunk
,
BRENDON P
,
80's Child
,
South Beach Recycling
,
Editor's Kutz
,
Le Visiteur Online
,
That Needs An Edit/Pete Le Freq
,
SITUATION
,
SEEN ON TV
What is Album Only?
Some artists and labels prefer certain tracks to be purchased as part of an entire release. These tracks cannot be purchased individually but are available to download as part of the release