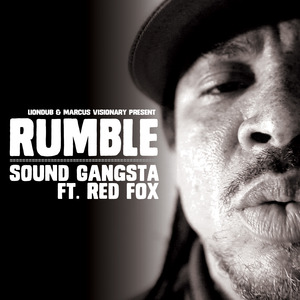 Formats:
192KB/S MP3
320KB/S MP3
WAV
FLAC
ALAC
AIFF
Review
NY x TO x JA! The international link up continues as Marcus Visionary and Liondub hook up once again under their Rumble alias. Recent beats have been graced by young upcoming talents whereas their latest workout "Sound Gangsta" has been created especially for a man that is somewhat of a veteran and legend in the game; Red Fox. The Jamaica raised New York resident has a breathless flow and a unique talent for effortlessly switching tones, flows and dynamics. All of his skills are on show for this one.
The A side Dancehall mix gives an interesting polished production take on Rumble's brand of dancehall with plenty of contemporary rap and hip hop influences. Think Mr. Collipark meets Tarik "Rvssian" Johnston.
Liondub's signature sounds are evident in the NYC mix, which swaps claps for snares and the modern polished sounds are swapped for stripped back for old school New York HipHop sounds in a constantly fluctuating 8 bar dancehall form. There is a tasty jungle mix that time stretches the vocal and synth hook and under lays it with booming sub bass and rattling tribal beats. Red Fox's slowed flow sits perfectly on top of jungle beats which probably tells you that all these dance promoters like Jungle Mania are missing a trick not booking him! There is a whole set of instrumental mixes for when you have vocalists on set and we are looking forward to hip hop and dancehall vocalists jumping on these for freestyles and ciphers over the next few months.
Get new release alerts
Rumble feat Red FoxLiondub International
DRM Free
DJ-friendly full length tracks
Secure Shopping
What is Album Only?
Some artists and labels prefer certain tracks to be purchased as part of an entire release. These tracks cannot be purchased individually but are available to download as part of the release