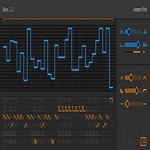 Product Information:

Deep is an AudioUnit Plugin for creating rhythmic filter effects. Its flexible envelope sequencer runs precisely synchronized to your DAW and modulates an ultra-steep, -48 dB/octave low-pass filter with clean and juicy sound. Multiple shaping and timing options, as well as an intuitive , high-contrast interface, make Deep a universal and fun-to-use tool - no matter which musci style you work with.

What can it do?

Apply complex filtering patterns onto any instrument parts.
Re-process and mangle beat loops with perfectly matched timing.
transform static, lifeless sounds into spectrally and rhythmically rich new material.

Deep works with Logic, MainStage, GarageBand, Live, Maschine, Studio One, Digital Performer, ReNoise, reaper, Bidule and other Mac software that supports AudioUnit effect plugins. It comes in 32/64 bit versions for both Intel and PPC, and requires OS X version 10.5 or later.
Royalty-free lifetime license
ZIP archive download