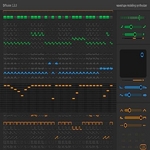 Product Information:

Diffusion is an AudioUnit synthetizer plugin for creating unique basslines and motion sounds. Its engine combines additive oscillators and waveshape modeling with an advanced matrix sequencer that allows for over 400 different parameter combinations per step. All this is controlled via an intuitive color-coded interface, making Diffusion a one-of-a-kind instrument that's both deeply capable and fun.

What can it do?

Create interesting animated synth sounds and basslines.
Generate pulsating, growling and wobblings sounds with powerful and warm character.
Produce complex textures previously only possible by layering several synthesizer tracks.

Diffusion works with Logic, MainStage, GarageBand, Live, Maschine, Studio One, Digital Performer, ReNoise, reaper, Bidule and other Mac software that supports AudioUnit effect plugins. It comes in 32/64 bit versions for both Intel and PPC, and requires OS X version 10.5 or later.
Royalty-free lifetime license
ZIP archive download