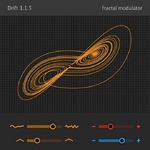 Product Information:

Drift is an AudioUnit effect plugin for creating chaotic modulation. It is based on a two-dimensional fractal generator commonly used for airflow modeling but applied here onto output level and filter cutoff, giving them organic, random but smooth motion. Combined with a simple, high-contrast interface , Drift easily makes any static sond come to life.

What can it do?

Create chaotic tremolo and panning effects
Apply delicate filters swooshes or random wobble
Add never-repeating, lively motion onto static ambient and noise sounds

Drift works with Logic, GarageBand, Live, Maschine, Studio One, ReNoise, Reaper, Bidule and other Mac software that supports AudioUnit effect plugins. It requires OS X Leopard, Snow Leopard or Lion.
Royalty-free lifetime license
ZIP archive download