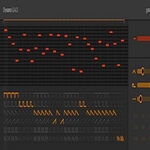 Product Information:

Dynamo an AudioUnit effect plugin for rhythmic sound level modulation. It is based on a sequencer working in perfect sync with your DAW which triggers up to 32 envelope generators each one of 6 shapes. Thanks to various timing and modulation options, as well as an incredibly easy-to-use interface, Dynamo is a very flexible yet simple tool that works great in any music style.


What can it do?

Apply intricate gate, tremolo and pumping sequences onto synth, bass, guitar, vocal and other sounds
Turn static pads and atmospheres into lively motion soundscapes
emulate slicing and stutter effects on beats


Dynamo works with Logic, MainStage, GarageBand, Live, Maschine, Studio One, Digital Performer, ReNoise, reaper, Bidule and other Mac software that supports AudioUnit effect plugins. It comes in 32/64 bit versions for both Intel and PPC, and requires OS X version 10.5 or later.
Royalty-free lifetime license
ZIP archive download