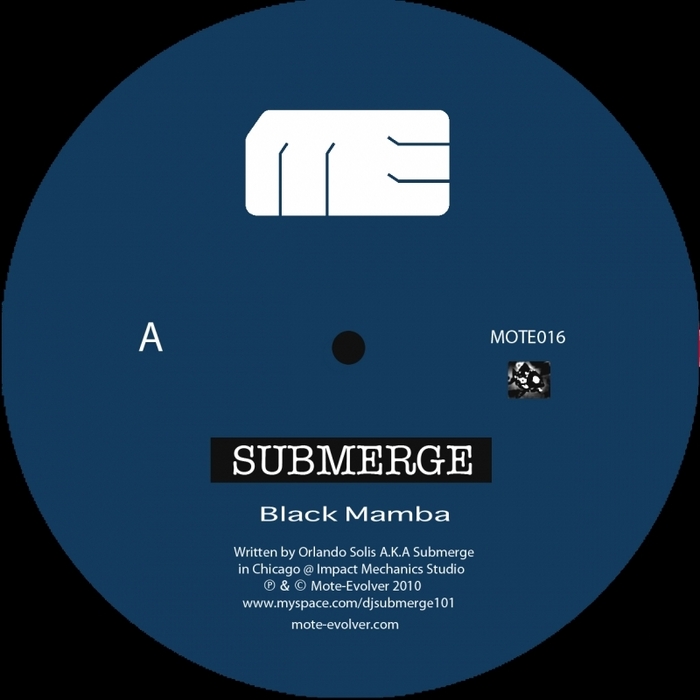 DRM Free
DJ-friendly full length tracks
Secure Shopping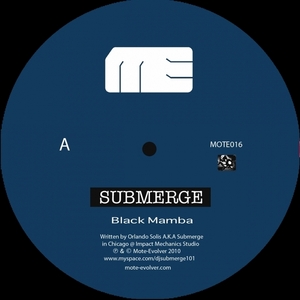 Cat:
MOTE 016D
Released:
5 April, 2010
Genre:
Techno
Formats:
320KB/S MP3
WAV
FLAC
ALAC
AIFF
Review
Submerge lands a new two track EP on Luke Slater's Mote-Evolver imprint. The "Black Mamba" EP introduces two of the dark and tweaky tracks that have brought the Chi town native to the attention of today's techno scene.

Mote-Evolver has been on a fine run of form of late. Recent releases from the likes of Cari Lekebusch, Ortin Cam and Samuli Kemppi's excellent "Dark Matter" EP are still fresh in the memory and have subsequently raised the expectation levels for every release that follows on the label. Those levels increase even more when the producer is one of the most exciting to come out of the USA in recent years. Having built a reputation as an eclectic and innovative producer, and fresh from the success of his "2012" EP on his own Impact Mechanics label, Submerge now pushes his fresh techno sound further with "Black Mamba."

The title track is an adrenalin fuelled, full throttled techno jauggernaught that gets the release underway with a bang. Bristling with energy and intensity, the track builds amid pounding beats, pulsing acid stabs and manic phaser FX from outer space. It is heads down stuff for peak time sets, sure to blow the heads off anyone who hears it. B Side, "J-XX" is not as emphatic but every bit as powerful. Crunching beats and swashing FX create a rawness that compliments the groove to perfection. Constantly building, the track grows and grows with each bar, mutating itself into an angry and fierceful climax.

Another stand out release from Mote-Evolver, "Black Mama" proves that the label can keep the quality of their output consistently high, rather than just staying noticed through an occasional track that grabs attention. The EP also shows that its creator, Submerge, is more than capable of keeping his quality at the same level too.
Get new release alerts
SubmergeMote Evolver
What is Album Only?
Some artists and labels prefer certain tracks to be purchased as part of an entire release. These tracks cannot be purchased individually but are available to download as part of the release