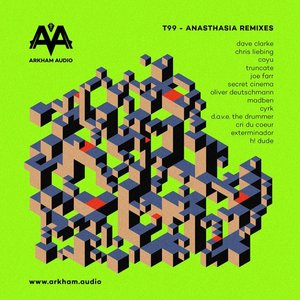 Cat:
ARKIO 5
Released:
11 December, 2020
Genre:
Techno
Formats:
192KB/S MP3
320KB/S MP3
WAV
FLAC
ALAC
AIFF
Product information
T99, aka Belgian techno duo Patrick de Meyer and Olivier Abbeloos, haunted the raving dancefloors of the early 90's techno scene and gained interminable notoriety following the release of their hit track 'Anasthasia' in 1991. Floating between hardcore and ambient techno, their unique sound still resonates at the core of the modern rave scene and the undying essence of the supreme rave anthem that is 'Anasthasia' still lives on.

Two decades on, tenacious techno figurehead Jerome D., aka The G aka G-Rom, has popularised his new Cri Du Coeur alias and Arkham Audio label boasting the ultimate electrifying sound. It comes as no surprise that these 90s music legends have come together to bring us the sweet nectar of old-school rave infused with the voguish touch of modern techno with this 'T99 - Anasthasia Remixes' compilation on Arkham Audio including remixes of the original anthem by Dave Clarke, Chris Liebing, Truncate, Coyu, JoeFarr, Secret Cinema, Oliver Deutschmann, Madben, CYRK, D.A.V.E. The Drummer, Cri Du Coeur, Exterminador, and H! Dude.

Starting us off is Dave Clarke whose take on the original mix infects the soul with exotic drum patterns and hair-raising breaks. Chris Liebing leads us into extraterrestrial territory with hazy baselines, futuristic melodies and endless space echoes taking central focus. Suspense looms as Coyu breaks into the scene with a glitching distortion of the original melody and a racing deep-techno baseline. Truncate takes the pedal off the metal on our hardcore techno journey and steers us into a buoyant tribal moment with a frenzy of tropical rhythms. JoeFarr pushes the track into powerful immortal oblivion with an overload of lightning bolt melodies and throbbing baselines. Layers of dance-inducing effervescent rhythms take control in Secret Cinema's remix, while Deutschmann brings his potent big room dancefloor sound to the fore with the infusion of raunchy hi-hat rhythms. Madben strips the track bare in the first half of his remix, letting the reverberating melody unwind itself slowly before slamming us back into up-tempo madness. The CYRK remix boasts an electrifying melody surrounded by an expansive celestial soundscape and hazy vocals, followed by D.A.V.E. The Drummer who stays true to his name with a remix that packs in an extravagant selection of percussive patterns. Arkham label head Cri Du Couer opens up his remix with an ear-tickling hi-hat rhythm that expands into a rage of animalistic screeches as the original melody echoes in the distant background. Exterminador introduces us to his enigmatic Eurodance soundscape with twangy cosmic sounds and a mysterious serpentine base melody. Last but not least, H! Dude's remix rounds off the compilation with an intoxicating brew of psychedelic melodies and clapping rhythms.

Arkham Audio has brought together the most perfect lineup of long-standing techno overlords to deliver the 'T99 - Anasthasia Remixes' compilation, bringing us back to the euphoric nostalgia of the iconic rave scene while tickling the palette with a thrashing selection of modernistic remixes. Listeners can look forward to the upcoming release of sneak peek audio clips and the full compilation digital release on December 11th via Arkham Audio!
Review
Founded by Patrick De Meyer and Olivier Abbeloos outta Belguim's hardcore rave scene of late-'80s and early-90s, Anasthasia by far was the duo's standout and everlasting tune. A true underground rave hit gone large through it withstanding the tests of time, T99 as a group have been inactive for at least the last 20 years, receiving a new injection of life from the super fresh Arkham Audio of Cri Du Coeur. Employing a star studded cast of remixes that includes the likes of Chris Liebing on a funky rave flex, Truncate who goes down a midwest tribal route and Oliver Deutschmann who gives "Anasthasia" a worthy technofied remix; Dave Clarke chimes in with some dusty and agitated riot rave, with the Exterminador Eurodance mix a sweet hidden bonus too!
Get new release alerts
T99Arkham Audio