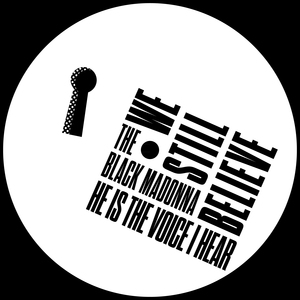 Cat:
WSB 001
Released:
9 January, 2017
Genre:
Deep House
Formats:
192KB/S MP3
320KB/S MP3
WAV
FLAC
ALAC
AIFF
Review
There's naturally been plenty of hype surrounding The Black Madonna's "He Is The Voice I Hear", which originally dropped on a single-sided 12" at the tail end of 2016. It's undoubtedly the fast-rising Chicagoan's best record to date, and feels like an unashamed tribute to Patrick Cowley's fine productions for disco icon Sylvester. While there are mournful notes - check the extended, beat-less piano intro -it doesn't take long to turn into a deliciously muscular, Italo-disco style chugger laden with razor-sharp strings, bubbling acid lines, and the kind of fluid piano solos that were once a hall mark of Frankie Knuckles' remixes. In other words, it's a fine contemporary disco record from one of dance music's most notable DJs of recent times.
Get new release alerts
The Black MadonnaWe Still Believe
played by
Robot 84
,
Sam Redmore
,
FINGERMAN
,
YAM WHO?
,
Dj Steef
,
RocknRolla Soundsystem
,
Tonbe
,
J&M BROTHERS
,
Kenneth Bager
,
Alan Dixon
,
Lance DeSardi
,
Djs: Most Charted - Deep House
,
KS French
,
Resident Advisor
,
BRENDON P
,
Enzo Elia
,
Chewy Rubs
,
80's Child
,
South Beach Recycling
,
Stephen Richards (DiscoDaze)
,
Space Echo
,
Gradient Logic
,
SITUATION
,
SEEN ON TV
,
MR Given Raw
,
Disco Funk Spinner - D.F.S
,
KNG EDITS
,
Melon Bomb
,
Paraiso Musique
DRM Free
DJ-friendly full length tracks
Secure Shopping
What is Album Only?
Some artists and labels prefer certain tracks to be purchased as part of an entire release. These tracks cannot be purchased individually but are available to download as part of the release