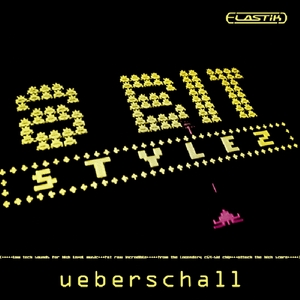 Cat:
USCHALL 109
Released:
5 October, 2012
Genre:
Deep Dubstep
Product information
IMPORTANT: Before purchasing this product, please read the final section of this product information regarding how to download the Ueberschall sample player and how to obtain a unique serial number for registering the soundbank.

--

The legend is back to consume your desires and take your feelings to the edge with fresh steps and tricks for your next mega mix.
For serious gamers / DJs/ producers.

We captured all the fire and modulations in the heart of SIDs sonic arsenal. These sounds explode from the disk and gel onto your trax. From fast flashbacks to futurist attacks, you will find the tools you need to squash the competition. C64 in every light, burned for the purpose of moving sound to new heights. Now as time moves forward, so does SID in an all new texture. The sound which is alive in all of us, evolves with us. But now these sounds are mapped out for you, and the game is pre-loaded. These samples are your secret codes and keys to move up to another level.

We feature 30 powerful energy-boosting Construction Kits to help you find and unlock the hidden motivation for your hit trax. In addition there are more than 1,000 unique SID synths, drums, vox, fx and grains with many styles and loops included as well.

- 30 Construction Kits
- 108 Drumloops
- 50 Backgroundtracks
- 20 FX Sequences
- 194 Licks & Loops
- 106 Game Sounds
- 72 Voices
- 524 Single Drums


This is a great tool to allow you to express those lo-fi ideas you always
wanted to. www.remix64.com, 6-2000

Original release in Audio and AKAI format 2000, re-release in ELASTIK format 2012

Elastik features
Ueberschalls Elastik Player does not only play the loops of this library but also pushes its envelope. Using this plug-in allows you to change pitch and tempo of loops and phrases at lightning speed, extract passages and modify a loops start and end points. In addition, there is a plethora of functions to manipulate the sound such as resample, formant, reverse and Elastiks powerful multimode filter.
Thanks to a clearly laid out browser, elements of all installed libraries can be quickly replaced and joined in endless new combinations. This way you can combine Reggaetons construction kits freely with elements of Hip-Hop, Pop, House, Reggae, Dubstep and many more.



--

IMPORTANT: All Elastik soundbanks work with the Ueberschall sample player ELASTIK 2. This player organises all samples in the easy-to-use browser and allows you to time-stretch and pitch-shift the material to suit it to your project. The DSP functions of the player also deliver a set of tools for better access to the material.

You will need to download and install Elastik 2 to use Ueberschall sample libraries. You can download the player here: www.ueberschall.com/en/core/content/staticplayerelastik

Once you have activated the soundbank in the Elastik 2 player, you will need to register the product with a unique serial number. Email digital@juno.co.uk with your download order reference in order to obtain a unique serial number for your soundbank. Replies may take up to 24 hours.
Get new release alerts
UeberschallUeberschall