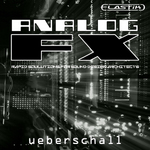 Product Information:

IMPORTANT: Before purchasing this product, please read the final section of this product information regarding how to download the Ueberschall sample player and how to obtain a unique serial number for registering the soundbank.

--
Analog FX from Ueberschall offers rapid solutions for Sound Design architects. This awesome pack provides unbelievable new dimensions provided by a hybrid analog tonal source concept. Instant Action, Emphasis, Momentum, Time Travel, Emotion, Weird Science, Stimulants and more.

Immense assortment of loops and single-shot FX for Trailers, Games, Animation, CGI, Ads, Film, TV, Web and other multimedia situations. This is a strategically organised Elastik Audio FX collection in a class of its own. See why!

Content:

Analog FX is a sophisticated sample collection boasting a massive library of premium and designed analog Sounds and Loops which contain over 1.7 GB of cutting-edge sound material.

The complete content programmed and produced to the highest possible standard, provides a wide range of styles. It is a state-of-the-art FX collection of samples offering a huge variety of atmospheres, noises, basslines, leads, sweeps, LFO as well as hundreds of synth loops.

The library is produced for advertising and game audio, trailer creation, cinema and tv post production, animation, sound design, multimedia presentations and for all the different musical styles and producers looking for analog production FX elements.

All sounds are simplistically organised into folders. Loops are enhanced with BPM information and tonal effects are accurately described and assigned to their root keys. You will locate every sample quickly for direct use.

Credits:

Responsible for the production of Ueberschalls Analog FX is Marc Steinmeier, a highly respected music producer and sound designer in the international music industry.

There's no doubt that Analog FX is the best FX collection you can buy right now to achieve the authentic sound design of today.

Expect the unexpected with Atmo FX (Dark Mood, Filtered, Low End, XXL), LFO FX (Dark Mood, Filtered, Grooves, Hard & Dirty, Random, Resonance, Sirenes), Mixture FX, Noise FX, SciFi FX (Filtered Drones, Signals, Sub FX, Sweep FX (Up- and Downlifter), Synth Gooves FX (Basslines, Noiselines, Sublines, Synthlines), and Wired FX.

Summary:

1.7 GB Analog Sounds
960 Loops and Samples
Mac/PC/AU/VST/RTAS

--

IMPORTANT: All Elastik soundbanks work with the Ueberschall sample player ELASTIK 2. This player organises all samples in the easy-to-use browser and allows you to time-stretch and pitch-shift the material to suit it to your project. The DSP functions of the player also deliver a set of tools for better access to the material.

You will need to download and install Elastik 2 to use Ueberschall sample libraries. You can download the player here: www.ueberschall.com/en/core/content/staticplayerelastik

Once you have activated the soundbank in the Elastik 2 player, you will need to register the product with a unique serial number. Email digital@juno.co.uk with your download order reference in order to obtain a unique serial number for your soundbank. Replies may take up to 24 hours.
Royalty-free lifetime license
ZIP archive download