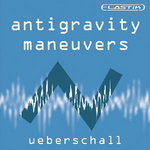 Product Information:

IMPORTANT: Before purchasing this product, please read the final section of this product information regarding how to download the Ueberschall sample player and how to obtain a unique serial number for registering the soundbank.

--
Antigravity Maneuvers by Ueberschall presents edge chasing epics of DnB and 2 Step (Garage) under Elastik ordinance. Inside you'll find the thrill of creation and the acclimation of chiselled craft. The 2 Steps material is a rare retro/metro gem, and this technique is heard in many commercials and networks.

Drum and Bass is a constantly evolving medium growing larger by the minute, it is featured across film scores, pop songs or even nu-metal. Tricky beats, solid backings with much mechanical mayhem. These sets include early DnB (Jungle etc...) and Nu DnB (bigbeat accent) as well as 2 Step styled with Dub, RnB, Reggae and others.

All Construction Kits are formatted with ueber-fidelity. Wild percussion, keys, synths, rez bass, abstracts, FX, nature, acoustic bass, floating pads, wobbly wide synth and others.

Antigravity Maneuvers includes the following sharp shooter collections:

DnB Resonance
DnB Flashtrackz
2 Step Garage

Summary:

2.1 GB
3,100 Loops & Samples
Elastik Soundbank for Mac/PC/AU/VST/RTAS

Original Product Information:

DnB Resonance:

DnB Resonance delivers material for musicians and producers in varied DnB styles. The CD contains 60 complete Drum N Bass mixes, interchangeable drum loops and single sounds, more than 850 drum loops and over 750 sounds provide a complete selection of driving D&B grooves, and appropriate instrumental sounds.

DnB Flashtrackz:

A must for every Drum N Bass fan: new Drum N' Bass club material comes from ueberschall straight into your sampler. DnB Flashtrackz contains material from various Drum N Bass producers and D&B styles. From 2 Step and Hardcore beats to live recorded Jazz titles, this sampling CD has something for everyone interested in breakbeats and deep basses.

The CD is structured in an easy to use format: the 60 short Drum N Bass demo mixes follow the corresponding drum loops and individual sounds, such as sub-basses, pads, instruments, atmospheres, FX and stretch sounds. Over 800 drum loops and over 800 sounds offer a complete selection of driving DnB grooves, suitable instrumental sounds.

2 Step Garage:

2 Steps unites elements of soulful american House, Dub, Drum N Bass, RnB, Reggae and Breakbeat. This double step audio CD contains 30 Dance Constructions Kits and more than 130 minutes of pure entertainment. Drum arrangements of up to one minute, backings, instrumental loops, vocals, complete mixes, for film and commercials too. All 100% royalty-free.

--

IMPORTANT: All Elastik soundbanks work with the Ueberschall sample player ELASTIK 2. This player organises all samples in the easy-to-use browser and allows you to time-stretch and pitch-shift the material to suit it to your project. The DSP functions of the player also deliver a set of tools for better access to the material.

You will need to download and install Elastik 2 to use Ueberschall sample libraries. You can download the player here: www.ueberschall.com/en/core/content/staticplayerelastik

Once you have activated the soundbank in the Elastik 2 player, you will need to register the product with a unique serial number. Email digital@juno.co.uk with your download order reference in order to obtain a unique serial number for your soundbank. Replies may take up to 24 hours.
Royalty-free lifetime license
ZIP archive download