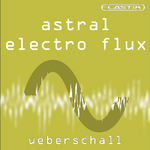 Product Information:

IMPORTANT: Before purchasing this product, please read the final section of this product information regarding how to download the Ueberschall sample player and how to obtain a unique serial number for registering the soundbank.

--
Astral Electro Flux from Ueberschall brings you artificially driven audio pattern interruptions with origins from the German Underground, with harshness, thickness, deranged experiments, mind control and other delights.

Electro Shock II, Electro Shock II and Techno Identity now make contact inside Elastik. Over-complicated synths, perplexed drum tones and inhumane textures provided in abundance. Thousands of chaotically generated inverted loop concepts extracted from analog keys, atmos, FX, percussion and other overboard processing elements.

Includes the analog collections:

Electro Shock I
Electro Shock II
Techno Identity

Product Contents:

2.4 GB
3,100 Loops and Samples
Mac/PC/AU/VST/RTAS

Original Product Information:

Electro Shock I:

This pack contains Trance and Techno Tools. Every sound in this mix originated on analog equipment. The samples were recorded on a Studer, to use the analog band compression, with additional single end processors to complete the work. Produced with EMS, Arp, 303, 909, Oberheim, and Moog.

Electro Shock II:

Double pack contains analog loops and single sounds. The fast producer tool for Trance, Techno, and Ambient. Produced with Oskar, 2 Voice, SH101, Poly 6, Sytem100, Ms20, and M700.

Techno Identity:

The developer kit - DJ tested technoid material for your next techno event. Extended drum-arrangements up to one minute for professional needs. Loops, lines, licks, FX, basses, rich single sounds, breaks, rolls, noize, tribal beatz, murder alarm FX, hooklines, alien vox, vinyl FX. Direct access to all drum samples. All sounds are vinyl tested.

--

IMPORTANT: All Elastik soundbanks work with the Ueberschall sample player ELASTIK 2. This player organises all samples in the easy-to-use browser and allows you to time-stretch and pitch-shift the material to suit it to your project. The DSP functions of the player also deliver a set of tools for better access to the material.

You will need to download and install Elastik 2 to use Ueberschall sample libraries. You can download the player here: www.ueberschall.com/en/core/content/staticplayerelastik

Once you have activated the soundbank in the Elastik 2 player, you will need to register the product with a unique serial number. Email digital@juno.co.uk with your download order reference in order to obtain a unique serial number for your soundbank. Replies may take up to 24 hours.
Royalty-free lifetime license
ZIP archive download