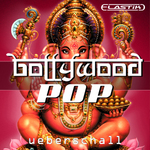 Product Information:

IMPORTANT: Before purchasing this product, please read the final section of this product information regarding how to download the Ueberschall sample player and how to obtain a unique serial number for registering the soundbank.

--
Bollywood Pop from the Ueberschall library is a true reflection of the music that is found in today?s contemporary Bollywood sound tracks. The library is engineered with factual high-end technical standards, which accomplish all quality demands for the high fidelity productions of Western music.

Content:

All recorded content is performed by dexterous Indian musicians, and adroit vocal artists, representing the deepest traditions of Bollywood, yet at the same time featuring styles that deliver a unique combination of Urban, Hip Hop, RnB, Dance and Reggaeton lines crammed into Bollywood movie themes.

3.48 GB
20 Appealing Construction Kits
More than 1462 loops

Bollywood Pop is jam-packed with vocal lines, vocals, Rap phrases and allaps, Indian strings, solo violins, sitar, sarod, sarangi, flute, Indian flute, santur, harmunium, tumbi , mandolin, veena, dilruba, tabla, dhol, dholak, thad and rare percussions combined with Western beats and backlines with contemporary Urban/Pop themes.

Structure:

All of this is powered by Ueberschall's ultimate Elastik II engine ready to be dropped into your contemporary project. Also included are some Punjabi Bhangra tracks with hot tribal dhol grooves, more appropriate for Dance based productions.

The Song kits were arranged as complete tracks containing intro, verse, verse, choral, c-part (a melodic section, in some kits combined also with vocal phrases) & outro.

Credits:

All tracks were produced and supremely engineered by Kamran Tatar (A-tee) at Noizia Productions, Sweden. A-tee?s aspiration with this product was to achieve a superlative product that outshines the average sample library standards, and provides a massive amount of ideas and live played samples which can help the user to create unique works with traditional sound images.

This Library is delicately produced as the first title in Ueberschall's upcoming product-line Empire Series brought to you in co-partnership with Noizia Productions.

Summary:

Genre: Bollywood
Elastik Player included - no sampler required!
Elastik Soundbank for Mac/PC/AU/VST RTAS/StandAlone

--

IMPORTANT: All Elastik soundbanks work with the Ueberschall sample player ELASTIK 2. This player organises all samples in the easy-to-use browser and allows you to time-stretch and pitch-shift the material to suit it to your project. The DSP functions of the player also deliver a set of tools for better access to the material.

You will need to download and install Elastik 2 to use Ueberschall sample libraries. You can download the player here: www.ueberschall.com/en/core/content/staticplayerelastik

Once you have activated the soundbank in the Elastik 2 player, you will need to register the product with a unique serial number. Email digital@juno.co.uk with your download order reference in order to obtain a unique serial number for your soundbank. Replies may take up to 24 hours.
Royalty-free lifetime license
ZIP archive download