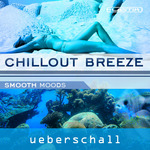 Product Information:

IMPORTANT: Before purchasing this product, please read the final section of this product information regarding how to download the Ueberschall sample player and how to obtain a unique serial number for registering the soundbank.

--

Chillout Breeze is the ultimate collection of mind bending, laidback, smooth and lush down tempo tunes. The 10 construction kits deliver a perfectly designed amount of sounds and are professionally produced, composed and arranged.

Content
A close look into the 1.5 GB package, finds more than 419 24-Bit loops and samples between 75 bpm to 113 bpm of supremely engineered and recorded instruments. Featuring accoustic and electric guitars, inspiring drum arrangements, mellow breaks and beats, chord progressions, pads, strings plus the right fx sounds for calm moments in music. BPM information and root key (key signatures) are also embedded in all loop file names.

Any producer will be ready to create unique smooth tunes, lounge projects, radio & tv commercials, film cues and web applications of high quality. Integrate the library into your project to give the whole production a totally new style and touch of sound - no matter what genre. All samples have been pre-cleared and are 100% original & royalty-free without any additional licensing fees.

Structure
Each construction kit is grouped into several subfolders:

Main Kit: Includes the main theme, with all of its sounds and phrases.
Variation Kits: Provides an alternative track and phrases which are used to add contrast and extension to the main theme. Some Kits provide more than one variation for further flexibility.

Navigation
The given structure and features like labeled key signature and tempo information, makes it as easy as possible to find a song or groove that will match your tracking needs and goals.
Additionally the Elastik Player offers you a lot of DSP functions to adjust the songs to further fit your creations, such as:

Credits
Marc Steinmeier worked for Companies like Universal Music, EMI Electrola and Sony/BMG to name a few. He has assisted, produced or remixed for well known artists such as LL Cool J, Alica Keys, George Clinton, Eminem to name a few. He gave a lot of productions their break in terms of Sound design.

1.5 GB, 10 Construction Kits, 419 Chillout Loops
http://www.ueberschall.com
Genre: Chillout
Elastik Soundbank for Mac/PC/AU/VST/RTAS/StandAlone
Elastik Player included - no sampler required!

--

IMPORTANT: All Elastik soundbanks work with the Ueberschall sample player ELASTIK 2. This player organises all samples in the easy-to-use browser and allows you to time-stretch and pitch-shift the material to suit it to your project. The DSP functions of the player also deliver a set of tools for better access to the material.

You will need to download and install Elastik 2 to use Ueberschall sample libraries. You can download the player here: www.ueberschall.com/en/core/content/staticplayerelastik

Once you have activated the soundbank in the Elastik 2 player, you will need to register the product with a unique serial number. Email digital@juno.co.uk with your download order reference in order to obtain a unique serial number for your soundbank. Replies may take up to 24 hours.
Royalty-free lifetime license
ZIP archive download