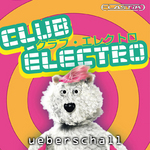 Product Information:

IMPORTANT: Before purchasing this product, please read the final section of this product information regarding how to download the Ueberschall sample player and how to obtain a unique serial number for registering the soundbank.

--
Club Electro from Ueberschall syncs your system with the stealthy sounds of the current worldwide high-tech Club happenings. Club Electro provides synth groove fury and finesse in an all new approach. 28 towering Construction Kits which contain edgy minimal to maximal electronic Club sounds.

This collection combines an epic spectrum of sequences, deep lead sounds, resonant bass lines, pads, atmospheres and effects as well as hundreds of finely conditioned drum and percussion samples and loops.

Turbo Synth Immersion:

Club Electro was developed with analog synth and signal processing gear of today and classics of yesterday. The rich and edgy instrumentation of this production was derived from synths such as:

Andromeda
Minimoog
Moog Voyager
Prophet 5
SH 101
Se-1X
Omega 8
Oberheim OBMX and Oberheim xpander

All with advanced techniques to spice up your production and give you that little extra on top.

All material is ultra-flexible and can cater to individual tastes and treatment visions. Easy access is guaranteed through the Elastik sample-player. All loops provide BPM and root key information within the sample's name, simplifying optimal selection and rapid fusion to productions.

Applications Identified:

These are sounds for anyone who wants to incorporate state-of-the-art electronically emphasised Club tracks and samples into their productions and performances. The included building-blocks Construction Kit concept enables diverse use of the sounds for your project needs.

Top destinations for these sounds are:

DJ Performances
GameAudio
PodCasts
Jingles
Cues
Video Tutorials

Credits:

Responsible for this Ueberschall production is Marc Steinmeier. He has collaborated on dozens of productions, worked and remixed for some of the biggest Artists in the Music industry, including Eminem, LL Cool J, Christina Aguilera, Jungle Brothers, George Clinton, to name only a few. He is still a pioneer of music and has constantly developed unique and fresh styles, creating new standards all the time.

Elektro Impulse Overdrive!

Summary:

935 MB
28 Construction Kits
Elastik Soundbank for Mac/PC/AU/VST/RTAS

--

IMPORTANT: All Elastik soundbanks work with the Ueberschall sample player ELASTIK 2. This player organises all samples in the easy-to-use browser and allows you to time-stretch and pitch-shift the material to suit it to your project. The DSP functions of the player also deliver a set of tools for better access to the material.

You will need to download and install Elastik 2 to use Ueberschall sample libraries. You can download the player here: www.ueberschall.com/en/core/content/staticplayerelastik

Once you have activated the soundbank in the Elastik 2 player, you will need to register the product with a unique serial number. Email digital@juno.co.uk with your download order reference in order to obtain a unique serial number for your soundbank. Replies may take up to 24 hours.
Royalty-free lifetime license
ZIP archive download