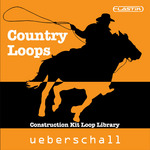 Product Information:

IMPORTANT: Before purchasing this product, please read the final section of this product information regarding how to download the Ueberschall sample player and how to obtain a unique serial number for registering the soundbank.

--

The new Ueberschall Library Country Loops is a must for Country music producers and sound designers worldwide.
It is perfect for music production, advertising, game music, film, web, video, multimedia, corporate presentations and of course country music productions.

Country Loops is 5GB in size and contains 1823 loops in 20 construction kits.
Each kit contains up to eight parts, each consisting of an intro, an outro, as well as various verses, chorus, c-parts and breaks. As usual every part can be combined with the various kits without any problems.
The speed varies between 80 and 176 BPM.

Instruments:
Drum Mixes split into individual tracks such as complex microphoned: bass drum, snare drum top and botton, hi-hat, ride, toms, overheads, and percussion.
Furthermore acoustic guitars, electric guitars, lap steel guitars and electric bass - a complete framework for every country music production.

Elastik:
The given structure and features, such as labeled key signature and tempo information provide a very easy way of arranging a whole track including all the parts you need to make a perfect unique tune. Additionally the Elastik 2 Player offers you a lot of DSP functions to adjust the phrases to further fit your productions. The central Loopeye surface focuses all attention on the loop and allows an innovative sample editing.
Due to the advanced architecture of the élastique pro algorithm by zplane.development, realtime sync-to-host is an integral part of Elastik 2. It also provides highest sound quality and CPU-friendly processing.

Credits:
Production: Kai Reuter, Uwe Kinast, Drums, Percussion: Phillipe Candas, Bass, Guitars: Kai Reuter

5 GB, 20 construction kits, 1823 loops



--

IMPORTANT: All Elastik soundbanks work with the Ueberschall sample player ELASTIK 2. This player organises all samples in the easy-to-use browser and allows you to time-stretch and pitch-shift the material to suit it to your project. The DSP functions of the player also deliver a set of tools for better access to the material.

You will need to download and install Elastik 2 to use Ueberschall sample libraries. You can download the player here: www.ueberschall.com/en/core/content/staticplayerelastik

Once you have activated the soundbank in the Elastik 2 player, you will need to register the product with a unique serial number. Email digital@juno.co.uk with your download order reference in order to obtain a unique serial number for your soundbank. Replies may take up to 24 hours.
Royalty-free lifetime license
ZIP archive download