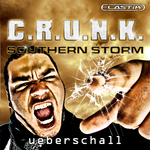 Product Information:

IMPORTANT: Before purchasing this product, please read the final section of this product information regarding how to download the Ueberschall sample player and how to obtain a unique serial number for registering the soundbank.

--
CRUNK from Ueberschall, is a brand new, jam-packed release which includes 24 Construction Kits, providing 3.4 GB of full-range Crunk & Dirty-South action. Each of these Construction Kits delivers a well composed and professionally produced loop (including a main part, variation, intro/outro).

With a range of 58 to 127 BPM, you'll find unique tracks, that have their own tension, feeling and style. Everything has been designed to conform to the musical genre and the samples comprise a state-of-the-art library, made to achieve true Urban sound.

This product will keep you ahead of the game with nothing less than feverish perfectionism at your disposal.

Product Contents:

3.4 GB
More than 1313 loops and samples

CRUNK offers a massive variety of style accurate drum loops, synth patterns, voices, bass lines, chord progressions, atmospheres, percussion and FX sounds, which can be painlessly integrated with each another. BPM information and root key (key signatures) are embedded in all loop file names, streamlining the selection process.

Product Structure:

Each complete kit contains up to 3 sub-kits and a drum single-sound folder

Main Kit: Includes the main theme, with its sounds and phrases

Variation Kit A: Provides an alternative track and phrases which is used to add contrast to the main theme and gives you more flexibility for your entire track

Intro/Outro Kit: Here you can find the matching intro/outro track for the overall kit, along with its individual parts

Single Drum Sound: The single-shots are centralised in this folder, making it easy to create your own additional drum patterns.

The given structure and features, such as labelled key signature and tempo information, provide a very easy way of arranging a whole song including all the parts you need to make the perfect Urban track. Additionally the Elastik Player offers you a lot of DSP functions to adjust the phrases to further fit your productions and creations.

Credits:

Responsible for this product are Marc Steinmeier and Bene Beneluxus Dehling. They have worked for Companies such as Universal Music, EMI Electrola and Sony/BMG, to name a few. They have assisted, produced or remixed for well-known artists such as LL Cool J, Alica Keys, George Clinton, and Eminem. They have given many productions their break in terms of Sound design. This product guarantees a sound that is truly high fidelity.

3.4 GB
24 Construction Kits
Elastik Soundbank for Mac/PC/AU/VST/RTAS

--

IMPORTANT: All Elastik soundbanks work with the Ueberschall sample player ELASTIK 2. This player organises all samples in the easy-to-use browser and allows you to time-stretch and pitch-shift the material to suit it to your project. The DSP functions of the player also deliver a set of tools for better access to the material.

You will need to download and install Elastik 2 to use Ueberschall sample libraries. You can download the player here: www.ueberschall.com/en/core/content/staticplayerelastik

Once you have activated the soundbank in the Elastik 2 player, you will need to register the product with a unique serial number. Email digital@juno.co.uk with your download order reference in order to obtain a unique serial number for your soundbank. Replies may take up to 24 hours.
Royalty-free lifetime license
ZIP archive download