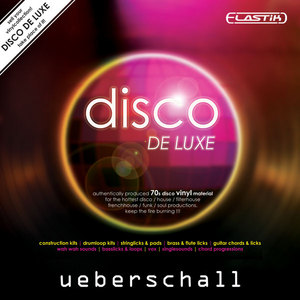 Product information
IMPORTANT: Before purchasing this product, please read the final section of this product information regarding how to download the Ueberschall sample player and how to obtain a unique serial number for registering the soundbank.

--

Boogie fever is back and better than ever with the release of Disco De Luxe. A Set of construction kits, drum loops, strings, brass, flutes, guitars, basses, vox and single sounds all to make your music feel like an authentic 70s disco release. Invent your own remix with these sounds. This one is for anyone who produces Disco, House, Electro, Funk & Soul. These samples were inspired by the often sampled disco vinyl records such as Chic, Bee Gees, Donna Summer, ABBA,...

Keep the fire burning !!!

Boogie nights (and days) can be yours with this excellent set of disco
construction kits. www.futuremusic.co.uk, 10-2002

Content:
construction kits, drum loop kits, percussion loops, instruments like guitar, brass, flute, strings, e-basses, vocals, fx, keys, single drums

original release in Audio/WAV format 2002, re-release in ELASTIK format 2012

Elastik features
Ueberschalls Elastik Player does not only play the loops of this library but also pushes its envelope. Using this plug-in allows you to change pitch and tempo of loops and phrases at lightning speed, extract passages and modify a loops start and end points. In addition, there is a plethora of functions to manipulate the sound such as resample, formant, reverse and Elastiks powerful multimode filter.

Thanks to a clearly laid out browser, elements of all installed libraries can be quickly replaced and joined in endless new combinations. This way you can combine Reggaetons construction kits freely with elements of Hip-Hop, Pop, House, Reggae, Dubstep and many more.

--

IMPORTANT: All Elastik soundbanks work with the Ueberschall sample player ELASTIK 2. This player organises all samples in the easy-to-use browser and allows you to time-stretch and pitch-shift the material to suit it to your project. The DSP functions of the player also deliver a set of tools for better access to the material.

You will need to download and install Elastik 2 to use Ueberschall sample libraries. You can download the player here: www.ueberschall.com/en/core/content/staticplayerelastik

Once you have activated the soundbank in the Elastik 2 player, you will need to register the product with a unique serial number. Email digital@juno.co.uk with your download order reference in order to obtain a unique serial number for your soundbank. Replies may take up to 24 hours.
Get new release alerts
UeberschallUeberschall