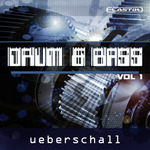 Product Information:

IMPORTANT: Before purchasing this product, please read the final section of this product information regarding how to download the Ueberschall sample player and how to obtain a unique serial number for registering the soundbank.

--

Drum & Bass delivers the latest DnB club sound straight into your studio. This library focuses on new and chart-oriented Drum & Bass - not those dusty oldskool tracks. Drum & Bass offers every music producer the right inspiration to make the next DnB-chart banger.
This library is the fastest way to get your tracks rollin.

Content
Drum & Bass includes 10 innovative construction kits, consisting of 580 pumping loops and samples. 1.4 GB, jampacked with DnB Beats, sub basses, fat wobble-basslines, skrilled melodies, vocals, chords and a massive effects section. All of the material is guaranteed to deliver the next club track.
Each of the 10 construction kits keeps, next to the main part, different variation- and breakdownparts. The tempo goes from 167 BPM to 175 BPM.
With this monster library it?s a cinch to choose the right sample for your production.

Structure
Each construction kit is grouped into several subfolders:
Main Kit: Includes the main theme, with all of its sounds and phrases.
Variation Kits: Provides an alternative track and phrases which are used to add contrast and extension to the main theme. Some Kits provide more than one variation for further flexibility.

Elastik 2
The given structure and features, such as labeled key signature and tempo information provide a very easy way of arranging a whole track including all the parts you need to make a perfect unique DnB tune. Additionally the brand new Elastik 2 Player offers you a lot of DSP functions to adjust the phrases to further fit your productions. Elastik lets you focus 100% on creativity without having to hassle with scales and BPMs. It doesn?t matter which samples you want to combine, elastik gets the job done delivering better than expected results with ease.

Production Credits
Responsible for this product is Marc Steinmeier and Ron Paul. Together they have worked for companies like Universal Music, EMI Electrola and Sony/BMG to name a few. They have assisted, produced or remixed for well known artists and given a lot of productions their break in terms of Sounddesign.

Credits Vocals:
B.Rodgers, Danny Cobbs, Jesse Lee Davis & Nele Kohrs


1.4 GB, 10 Construction Kits, 580 Drum & Bass Loops
http://www.ueberschall.com
Genre: Drum & Bass
Elastik Soundbank for Mac/PC/AU/VST/RTAS/StandAlone
Elastik Player included - no sampler required!


--

IMPORTANT: All Elastik soundbanks work with the Ueberschall sample player ELASTIK 2. This player organises all samples in the easy-to-use browser and allows you to time-stretch and pitch-shift the material to suit it to your project. The DSP functions of the player also deliver a set of tools for better access to the material.

You will need to download and install Elastik 2 to use Ueberschall sample libraries. You can download the player here: www.ueberschall.com/en/core/content/staticplayerelastik

Once you have activated the soundbank in the Elastik 2 player, you will need to register the product with a unique serial number. Email digital@juno.co.uk with your download order reference in order to obtain a unique serial number for your soundbank. Replies may take up to 24 hours.
Royalty-free lifetime license
ZIP archive download