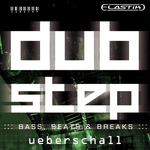 Product Information:

IMPORTANT: Before purchasing this product, please read the final section of this product information regarding how to download the Ueberschall sample player and how to obtain a unique serial number for registering the soundbank.

--
Dubstep - Massive Beats and Monster Basslines from Ueberschall, is another healthy double dose of prime time power with their first installment of the Dubstep movement. This release is perfectly produced for forward-thinking Dubstep aesthetics.

Dubstep rises to the occasion with 38 cutting-edge Construction Kits and 1,432 pumping loops and samples.

Content:

Jam-packed with the hottest halfstep beats, deep subs, phat wobbly basslines, twisting melodies, bombastic build-ups, vocals, stomping chords and a massive effect section. Huge dubsteps, monster tunes and guaranteed awesome sounds.

Dubstep provides a highly effective way to develop dancefloor bombs with a finger tip. Huge, booming sounds and the insane programming of effects will deeply impress the biggest producers in the biz.

Structure:

The 38 Construction Kits contain up to 4 sub-kits and are organised as follows:

Main Kit: includes the main theme, sounds and phrases
Variation Kit A, B & C: provide additional alternative phrases used to give you more flexibility

In addition to the 38 Construction Kits this library is an extra folder for wooble basslines and special Dubstep vocals.

Ueberschall made this library with one thing in mind; total inspiration. This is a red hot music tool made to be creative. All tracks are heavy-hitting Dubstep rockers.

This installment is a heavyweight, extraordinary sound cluster with intense builds and threatening leads that will bring any crowd to a frenzy. Turn the speakers up to ten, start working with this product and prepare to have your socks blown off.

Elastik 2:

The given structure and features, such as labelled key signature and tempo information, provide a very easy way of arranging a whole track including all the parts you need to make a perfect unique Dubstep tune.

Additionally, the brand new Elastik 2 Player offers you a lot of DSP functions to adjust the phrases to further fit your productions. Elastik gives you the chance to focus yourself 100% on creativity without having to hassle with scales and BPMs.

It doesn?t matter which samples you want to combine, Elastik gets the job done delivering better than expected results with ease.

Credits:

Responsible for this product is Marc Steinmeier. He has worked for companies including Universal Music, EMI Electrola and Sony/BMG. He has assisted, produced or remixed for many well-known artists. He also gave a lot of productions their break in terms of Sound design.

Summary:

1.84 GB
1432 Loops
38 Construction Kits
Genre: Dubstep
Elastik Soundbank for Mac/PC/AU/VST RTAS/StandAlone

--

IMPORTANT: All Elastik soundbanks work with the Ueberschall sample player ELASTIK 2. This player organises all samples in the easy-to-use browser and allows you to time-stretch and pitch-shift the material to suit it to your project. The DSP functions of the player also deliver a set of tools for better access to the material.

You will need to download and install Elastik 2 to use Ueberschall sample libraries. You can download the player here: www.ueberschall.com/en/core/content/staticplayerelastik

Once you have activated the soundbank in the Elastik 2 player, you will need to register the product with a unique serial number. Email digital@juno.co.uk with your download order reference in order to obtain a unique serial number for your soundbank. Replies may take up to 24 hours.
Royalty-free lifetime license
ZIP archive download