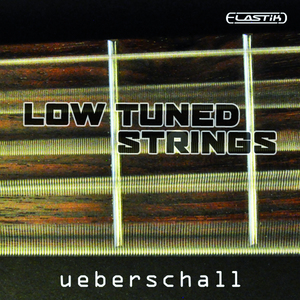 Product information
IMPORTANT: Before purchasing this product, please read the final section of this product information regarding how to download the Ueberschall sample player and how to obtain a unique serial number for registering the soundbank.

--

Deeper! Low Tuned Strings is pure acoustic sound design. It reveals a new, unheard vibrating world of 4, 5 and 6-stringed instruments that gets deep under your skin.

This special library offers loops and sounds recorded from unusually low tuned stringed instruments. Sound sources were acoustic and electric guitars, electric basses as well as a double bass. Grant your production something unique by adding these extraordinarily sounding loops and single sounds. The instruments? strings have been detuned to up to more than an octave below their common tuning, resulting in interesting sound structures. These strings rattle and vibrate while the booming double bass licks have moved to the deepest basement of frequencies.
Use Low Tuned Strings to place uncommon emphases in music productions and dubbing. The capabilities are immense: use the sounds as source material for installations, experimental music, atonal journeys through sound, suspense-packed effects in film, television and games production or as atmospheric elements in various music genres. All samples are available in two versions: dry and processed with versatile effects. The unaltered samples enable using the uncommon sound sources in new contexts over and over.
The library is categorized into melodies, licks and phrases, single notes, bowed, slides, breaks and harmonies.

Low Tuned Strings convinces by its individual sound aesthetic, produced by loose, wobbling strings, near the border to tonality and stable tuning. This library is a real enrichment to musicians, producers and sound designers that enjoy experimenting.

Elastik-Features
Ueberschalls Elastik-Player is the perfect matching plug-in for the sounds of Low Tuned Strings. It offers perfect and lightning fast time-stretching, allowing the samples to be slowed down extremely to create unheard soundscapes. Functions like resample, formant, reverse and the multimode filter make further loop manipulation easy and efficient.
The players attribute-based browser makes it possible to locate specific sounds across all in-stalled Elastik libraries within seconds. Find and load the matching drum loop, bassline, or instrumental lick for your song in a breath. And at the same time, Elastik-Player will almost not stress your CPU.

Attention: The drums in the demo track are not included in the library.

Credits
Musicians - Guitar: Kai Reuter, Uwe Kinast, Bass: Christian Flohr, Sound-Design: Julian Liedtke, Uwe Kinast



850 MB , 508 Loops


--

IMPORTANT: All Elastik soundbanks work with the Ueberschall sample player ELASTIK 2. This player organises all samples in the easy-to-use browser and allows you to time-stretch and pitch-shift the material to suit it to your project. The DSP functions of the player also deliver a set of tools for better access to the material.

You will need to download and install Elastik 2 to use Ueberschall sample libraries. You can download the player here: www.ueberschall.com/en/core/content/staticplayerelastik

Once you have activated the soundbank in the Elastik 2 player, you will need to register the product with a unique serial number. Email digital@juno.co.uk with your download order reference in order to obtain a unique serial number for your soundbank. Replies may take up to 24 hours.
Get new release alerts
UeberschallUeberschall