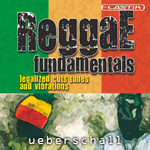 Product Information:

IMPORTANT: Before purchasing this product, please read the final section of this product information regarding how to download the Ueberschall sample player and how to obtain a unique serial number for registering the soundbank.

--
Reggae Fundamentals from Ueberschall is a specialised sample compilation which includes 33 Construction Kits and 12 Drum kits sheltered in 2 GB of ready-to-work content offering the most authoritative and current Reggae environments.

The kits are jam packed with everything you need to give your production the perfect finishing touch, including bass, synth, drum and padlines, also vocals, FX and atmospheres.

All patterns, shots, and riffs have been molded with state-of-the-art techniques, tricks and tools. This set has a colossal variety of styles from different periods of Reggae history including Roots, modern Roots, Rub-a-Dub, Dancehall, Modern Reggae, Caribbean and Dub.

Also included are hundreds of drum and percussion loops and samples. Providing a wide radius of Reggae concentrated mix tools. All this material is supported by the Elastik audio instrument, so you can expect organisation and easy tweaking straight from the get go.

Credits:

Responsible for the production of Ueberschall's Reggae Fundamentals are Felix Wolter, Benjamin Kastner & Marc Steinmeier. This team has produced and remixed for well known artists such as Gentlemen, Far East Band, Christina Aguilera, and Eminem, to name but a few.

There's no doubt that Reggae Fundamentals is the indispensable package you need to make the perfect Reggae sound of today.

Summary:

1.9 GB
33 Construction Kits
949 loops & samples
Mac/PC/AU/VST/RTAS


--

IMPORTANT: All Elastik soundbanks work with the Ueberschall sample player ELASTIK 2. This player organises all samples in the easy-to-use browser and allows you to time-stretch and pitch-shift the material to suit it to your project. The DSP functions of the player also deliver a set of tools for better access to the material.

You will need to download and install Elastik 2 to use Ueberschall sample libraries. You can download the player here: www.ueberschall.com/en/core/content/staticplayerelastik

Once you have activated the soundbank in the Elastik 2 player, you will need to register the product with a unique serial number. Email digital@juno.co.uk with your download order reference in order to obtain a unique serial number for your soundbank. Replies may take up to 24 hours.
Royalty-free lifetime license
ZIP archive download