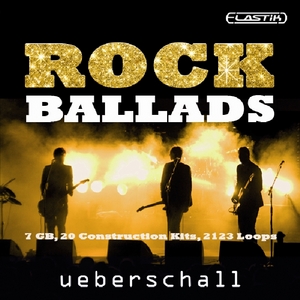 Cat:
USCHALL 105
Released:
27 September, 2012
Genre:
Rock
Product information
IMPORTANT: Before purchasing this product, please read the final section of this product information regarding how to download the Ueberschall sample player and how to obtain a unique serial number for registering the soundbank.

--

Grab your guitar and let your feelings flow. Many ballads in rock music have turned into modern classics. From now on and thanks to Rock Ballads, every musician can produce emotional songs with powerful rock sound in his studio.

We proudly preset Rock Ballads, the intense result of a production lasting a few months. This library offers timeless song starters, being extensively produced on the highest possible level. Rock Ballads consists of 20 construction kits, recorded by versed studio musicians. A broad bandwidth of sensitive and emotional songs to lay the foundation for your ambitious compositions.
Rock Ballads targets demanding musicians and producers. This library is an excellent source of inspiration for songwriters as well as an ideal solution for dubbing and advertisement. It adds the right twist to music productions and is, at the same time, of great use for singers applications and demo tracks.

Because of its ambitious production, Rock Ballads will also convey a lot about the corresponding composing techniques. With the material being available as individual tracks, the construction and production of modern rock ballads can be analyzed easily. A great opportunity for music schools and educational places for sound engineering.

This extensive library features 7GB content, containing 2.123 loops. Each of the 20 construction kits offers up to 11 parts, including intro, A-, B- and C-parts as well as breaks and outro. Individual tracks contain acoustic guitars, predominantly double-tracked, electric guitars and basses ? all recorded thru real, not simulated, amplifiers. Pianos, keyboards and atmospherical sound effects ensure nice rounding additions.

As in all Ueberschall productions, the drums have been miced extensively. In addition to a preset drum mix-down for fast use, we added unprocessed individual tracks of the whole drum kit: bass drum, snare drum top/bottom, hi-hats, toms and overheads, allowing to create your individual sound design. Furthermore, we have added percussion elements like shaker and tambourines to a few kits.


Elastik-features

Ueberschalls Elastik Player is clearly laid out and fast to navigate. All loop names will display tempo informations as well as the base note. This makes browsing the library a breeze. The powerful Elastique pro algorithm by zplane allows time stretching and pitch shifting of all loops within seconds, at highest quality and low CPU-strain. All instrument-loops of a Rock Ballad kit can easily be transposed to be used in other construction kits. Likewise, all drums of this production can be exchanged and combined across the complete library.
Since all installed libraries are selected by a single attribute-based browser, there is immediate access to all available loops ? very handy for cross-genre music productions.
Elastik Players offers plenty ways to alter these loops. With functions such as formant, resample, reverse and a powerful multimode filter, you can easily unfold your creativity.

Credits
Production: Kai Reuter, Uwe Kinast, Drums, Percussion: Phillipe Candas, Bass: Kai Reuter, Guitars: Kai Reuter


--

IMPORTANT: All Elastik soundbanks work with the Ueberschall sample player ELASTIK 2. This player organises all samples in the easy-to-use browser and allows you to time-stretch and pitch-shift the material to suit it to your project. The DSP functions of the player also deliver a set of tools for better access to the material.

You will need to download and install Elastik 2 to use Ueberschall sample libraries. You can download the player here: www.ueberschall.com/en/core/content/staticplayerelastik

Once you have activated the soundbank in the Elastik 2 player, you will need to register the product with a unique serial number. Email digital@juno.co.uk with your download order reference in order to obtain a unique serial number for your soundbank. Replies may take up to 24 hours.
Get new release alerts
UeberschallUeberschall