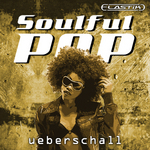 Product Information:

IMPORTANT: Before purchasing this product, please read the final section of this product information regarding how to download the Ueberschall sample player and how to obtain a unique serial number for registering the soundbank.

--
Soulful Pop from Ueberschall is a comprehensive and versatile Pop Music library which delivers over 3.8 GB of authentic, high quality Pop arrangements spiced up with a breeze of soul. The 18 song-oriented Construction Kits have a musical spectrum that ranges from slow Soulful songs to smooth Pop songs, up to classy Pop Rock songs.

Content:

The whole content covers a bandwidth of tempos between 59 to 100 BPM and is filled with more than 1,130 loops of precision engineered instrument recordings. All drum recordings are dry and without any extra reverb.

Furthermore the library is stocked with percussions, bass lines, amped and acoustic guitars, organs, various strings, flutes, synthesizer pads, acoustic pianos, Rhodes and other electric pianos. Most of these samples get an additional polish with special gear to achieve an authentic and warm vintage sound.

Structure:

Each Soulful Pop song-kit contains up to 5 sub-kits:

Intro: Here you can find the matching intro track for the complete song

Main Kit: Includes the main theme, with its sounds and phrases.

Variation Kit: Provides an alternative track and phrases which are used to add contrast to the main theme and give you more flexibility for your entire track

Variation Kit 2: Provides like the first Variation an alternative track and phrases

Outro: Like the intro, this is the matching outro

As usual, every single-stem is labelled with BPM information, root key (key signatures) and can be easily mixed and combined with other sounds from this or any other Elastik library from Ueberschall. With the provided Elastik built-in granulation features, you can also stretch and reshape the given material.

Credits:

Marc Steinmeier has worked, produced and remixed for companies like Universal Music, EMI Electrola and Sony/BMG. He has constantly developed unique and fresh styles, creating new standards all the time. He gave a lot of international productions their break in terms of Sound design.

Summary:

Genre: Pop, Soul, Rock
3.9 GB
18 Construction Kits
1,137 Loops & Samples
Elastik Soundbank for Mac/PC/AU/VST RTAS/StandAlone

--

IMPORTANT: All Elastik soundbanks work with the Ueberschall sample player ELASTIK 2. This player organises all samples in the easy-to-use browser and allows you to time-stretch and pitch-shift the material to suit it to your project. The DSP functions of the player also deliver a set of tools for better access to the material.

You will need to download and install Elastik 2 to use Ueberschall sample libraries. You can download the player here: www.ueberschall.com/en/core/content/staticplayerelastik

Once you have activated the soundbank in the Elastik 2 player, you will need to register the product with a unique serial number. Email digital@juno.co.uk with your download order reference in order to obtain a unique serial number for your soundbank. Replies may take up to 24 hours.
Royalty-free lifetime license
ZIP archive download