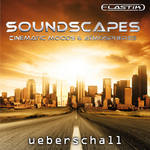 Product Information:

IMPORTANT: Before purchasing this product, please read the final section of this product information regarding how to download the Ueberschall sample player and how to obtain a unique serial number for registering the soundbank.

--
Soundscapes from Ueberschall is a universally useful sound library, which consist mainly of dreamy moods, with smooth harmonies and off axis accents. The moods are an excellent fit for the needs of scoring, game audio, temp tracks, trailers, songs, audio logos, advertising, websites and of course as background music.

Content:

Each of the 24 Construction Kits consists of an intro, outro and a main mix. Furthermore all parts used to create the main mix are available for individual selection and every single element within a part is further broken down. With the flexible Elastik engine, you can easily mix and modify several of the 809 single-stems at once to create on-the-fly complete new moods.

These features give you the possibility of altering the 2.78 GB content exactly to your needs. Combine your footage with these moods, and you can create with ease a unique feeling to compel and immerse your intended audience.

Structure/Blueprint:

Each Construction Kit is grouped into two subfolders:

Intro & Outro: Here you can find the matching intro/outro track for the Construction Kit
Main Kit: Includes the main theme, with all of its sounds and phrases

Navigation/Workflow:

The given structure and features, such as labelled key signature and tempo information, makes it as easy as possible to find a song or groove that will match your tracking needs and goals. Additionally the Elastik Player offers you a lot of DSP functions to adjust the songs to further fit your productions and creations.

Credits:

Marc Steinmeier has worked, produced and remixed for companies including Universal Music, EMI Electrola and Sony/BMG. He is still a pioneer of music and has constantly developed unique and fresh styles, creating new standards all the time. He gave a lot of productions their break in terms of Sound design.

Summary:

This awesome pack provides ambient moods of intergalactic magnitude with:

2.78 GB
24 Construction Kits
809 Loops and Single Sounds
Genre: Soundtrack
Elastik Soundbank for Mac/PC/AU/VST RTAS/StandAlone

--

IMPORTANT: All Elastik soundbanks work with the Ueberschall sample player ELASTIK 2. This player organises all samples in the easy-to-use browser and allows you to time-stretch and pitch-shift the material to suit it to your project. The DSP functions of the player also deliver a set of tools for better access to the material.

You will need to download and install Elastik 2 to use Ueberschall sample libraries. You can download the player here: www.ueberschall.com/en/core/content/staticplayerelastik

Once you have activated the soundbank in the Elastik 2 player, you will need to register the product with a unique serial number. Email digital@juno.co.uk with your download order reference in order to obtain a unique serial number for your soundbank. Replies may take up to 24 hours.
Royalty-free lifetime license
ZIP archive download