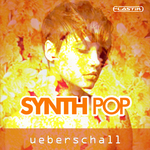 Product Information:

IMPORTANT: Before purchasing this product, please read the final section of this product information regarding how to download the Ueberschall sample player and how to obtain a unique serial number for registering the soundbank.

--
Synth Pop grants you access to the full range of modern charts music.
The 20 Construction Kits deliver everything which is needed to achieve modern Pop Music.

Synth Pop is characterized by an emphasized electronic sound. It is packed with harmonies, catchy melodies, basslines and club based drum programming.
The 1.8 GB of content brings a hugh amount of specialized samples and sounds, like drums, percussion, deep basses, synth sounds, atmospheric pads, strings, pianos and sound effects?to name but a few.

Synth Pop is the ultimate production tool to create chart tunes on the fly. A must have for producers and sound designers worldwide. Great for music production, commercials, game audio, film cues, web applications, video, multimedia, corporate presentation.

Structure
Each construction kit is grouped into several subfolders:
- Main Kit: Includes the main theme, with all of its sounds and phrases.
- Variation Kits: Provides an alternative track and phrases which are used to add contrast and extension to the main theme. Some Kits provide more than one variation for further flexibility.

Navigation
The given structure and features like labeled key signature and tempo information, makes it as easy as possible to find a song or groove that will match your tracking needs and goals.
Additionally the Elastik Player offers you a lot of DSP functions to adjust the songs to further fit your creations, such as:
- highspeed timestretching and pitchshifting algorithms
- save single or complete audio files of original and modified loops
- mapping tools (automatic slice- & chromatic-map)
- multiple content management
- innovative LoopEye for fast loop variations
- and many many more

Credits
Marc Steinmeier has worked, produced and remixed for Companies like Universal Music, EMI Electrola and Sony/BMG. He is still a pioneer of music and has constantly developed unique and fresh styles, creating new standards all the time. He gave a lot of productions their break in terms of Sounddesign.

Guarantees major commercial success worldwide.

Genre: Charts
1.8 GB, 20 c-kits, 736 loops

--

IMPORTANT: All Elastik soundbanks work with the Ueberschall sample player ELASTIK 2. This player organises all samples in the easy-to-use browser and allows you to time-stretch and pitch-shift the material to suit it to your project. The DSP functions of the player also deliver a set of tools for better access to the material.

You will need to download and install Elastik 2 to use Ueberschall sample libraries. You can download the player here: www.ueberschall.com/en/core/content/staticplayerelastik

Once you have activated the soundbank in the Elastik 2 player, you will need to register the product with a unique serial number. Email digital@juno.co.uk with your download order reference in order to obtain a unique serial number for your soundbank. Replies may take up to 24 hours.
Royalty-free lifetime license
ZIP archive download