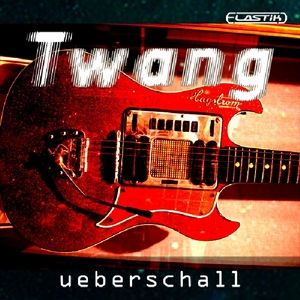 Cat:
USCHALL 106
Released:
28 September, 2012
Genre:
Rock
Product information
IMPORTANT: Before purchasing this product, please read the final section of this product information regarding how to download the Ueberschall sample player and how to obtain a unique serial number for registering the soundbank.

--

Rockin-Italo-Soundtrack

Twang, a unique guitar sound that has shaped Surf-Rock, Rockabilly and the so-called Spaghetti-Western genre during the sixties. Due to its rediscovery, Twang is up-to-date, more than ever - just listen to Tarantinos movies.

The distinctive sound of Twang is mainly produced by hitting the lower strings of a single-coil-equipped clean electric or baritone guitar with a plectrum near the bridge. This specific tone is harmonically rich and sustaining and often modulated in pitch by string-bending or the use of the guitars vibrato arm. Authentic sound reproduction relies on using clean Fender valve-amplification with audible spring reverb and a tape delay as additional ingredients.

The library contains 10 construction kits, ranging from Surf-Rock to soundtrack themes that could have been taken out of any 60s Italo-Western or crime movie. The sounds of Twang! have been recorded directly without the use of any pitch manipulation. All guitars, baritones and electric basses were recorded through original classic amplifiers - no simulations!

The kits cover a tempo range from 76 to 144 BPM. Every construction kit offers a complete mix of all tracks plus individual tracks for guitar, bass, percussions and the drum-kit components. This way, you may also create your personal mix of kick, snare, toms, hi-hats and overhead microphones.
Kits 1 to 9 include intro, parts A and B, break and outro. Construction kit 10 contains 12 tracks of different instruments designed to be used as breaks in all other kits.

Twang is the perfect library to create authentic movie scores, advertisements and games with the specific retro-touch of a Spaghetti-Western or crime-series including the modern counterparts. And since these original soundtracks have always been a favored source for sampling, Twang! also is a great match for producers of Big Beat, Dance and Hip Hop tracks.

Elastik

Our free Elastik-Player allows changing the tempo and pitch of any library loop in highest quality and within the blink of an eye. Thanks to its attribute-based browser, all loops within all installed Elastik libraries can be found quickly and be combined to new construction kits. This is of great use when using loops across different genres. Functions such as Resample, Formant, Reverse and Elastiks effective multi mode filter allows turning the retro-loops of Twang! into modern version with ease.

Credits
Production: Kai Reuter, Uwe Kinast, Drums, Percussion: Michael Fromm,
Bass: Kai Reuter, Guitars: Kai Reuter


2 GB, 10 Construction Kits, 772 Loops


--

IMPORTANT: All Elastik soundbanks work with the Ueberschall sample player ELASTIK 2. This player organises all samples in the easy-to-use browser and allows you to time-stretch and pitch-shift the material to suit it to your project. The DSP functions of the player also deliver a set of tools for better access to the material.

You will need to download and install Elastik 2 to use Ueberschall sample libraries. You can download the player here: www.ueberschall.com/en/core/content/staticplayerelastik

Once you have activated the soundbank in the Elastik 2 player, you will need to register the product with a unique serial number. Email digital@juno.co.uk with your download order reference in order to obtain a unique serial number for your soundbank. Replies may take up to 24 hours.
Get new release alerts
UeberschallUeberschall