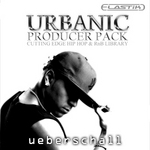 Product Information:

IMPORTANT: Before purchasing this product, please read the final section of this product information regarding how to download the Ueberschall sample player and how to obtain a unique serial number for registering the soundbank.

--
Urbanic Producer Pack from Ueberschall is a massive library of cutting-edge Hip Hop & RnB Sounds. This sample pack is made especially for the Urban producer of today.

With more than 1120 individual single drum sounds consisting of punch filled kick drums, claps, snare, hi-hats, percussion, cymbals and shaker samples, this superabundant collection also consists of loops from hi-hat, percussion & FX as well as bassline, synth, guitar, rhodes, piano, and string sequences.

BPM information and root key (key signatures) are embedded in most loop file names, simplifying selection and direct use. Ueberschall fortified this library with bass and lead instrument sounds, sampled with lengths of up to 8 seconds. With tone captured form top trusted and tested brands like Moog, Studio Electronics, Oberheim, and Roland, to name a few.

This library is packed with everything a Hip Hop and RnB producer needs and represents true, undefeated Urban excellence.

Contents:

1.3 GB Hip Hop and RnB sounds
2090 Loops and Samples
Elastik Soundbank for Mac/PC/AU/VST/RTAS

--

IMPORTANT: All Elastik soundbanks work with the Ueberschall sample player ELASTIK 2. This player organises all samples in the easy-to-use browser and allows you to time-stretch and pitch-shift the material to suit it to your project. The DSP functions of the player also deliver a set of tools for better access to the material.

You will need to download and install Elastik 2 to use Ueberschall sample libraries. You can download the player here: www.ueberschall.com/en/core/content/staticplayerelastik

Once you have activated the soundbank in the Elastik 2 player, you will need to register the product with a unique serial number. Email digital@juno.co.uk with your download order reference in order to obtain a unique serial number for your soundbank. Replies may take up to 24 hours.
Royalty-free lifetime license
ZIP archive download