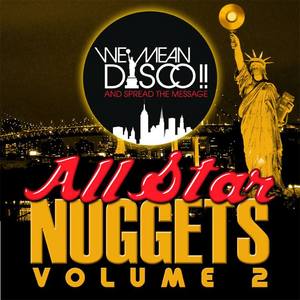 Formats:
192KB/S MP3
320KB/S MP3
WAV
FLAC
ALAC
AIFF
Review
Here's a tantalizing prospect: an expansive collection of edits and reworks old and new from some of the greatest exponents in the disco scene. With such quality fare on offer, picking highlights is tough, but keep an eye out for the contributions from Frico (a straightened-out and chopped-up version of Orlando Johnson & Trance's boogie classic "Chocolate City"), DJ Prime (a soaring version of disco-soul classic "Nothing's Gonna Hold Us Back"), Manix (the filter-heavy disco-funk workout "Hangin Through") and Alkalino (the heavy P-funk jam "This is a Party"). There's also another chance to enjoy scene classics from Revivra (their brilliant 2010 rework of Marvin Gaye's "What's Going On?") and The Apple Scruffs (the vocoder-laden Pink Floyd disco cover "Another Brick In The Wall").
Get new release alerts
VariousWE MEAN DISCO!!
DRM Free
DJ-friendly full length tracks
Secure Shopping
What is Album Only?
Some artists and labels prefer certain tracks to be purchased as part of an entire release. These tracks cannot be purchased individually but are available to download as part of the release