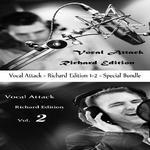 Product Information:

Vocal Attack: Richard Edition Special Bundle contains Richard Editions 1 and 2 in one awesome download with 787 royalty-free vocal samples ready for your productions. Get ready for this huge vocal sample library full of male vocals, spoken words, ad-libs, whispers, hooks, song lines, shouts and much more.

The vocal samples are useful in different styles and genres, like Ambient, Chillout, Lounge, Pop, Soul, Rock, and many more.

Most of the samples have key and BPM information for ease of use. Richard earned his wings as the prefered session voice on numerous records, production, live and writing projects for a diversity of recording artists around the world.

N-Sync (Jive), Ricky Martin (Columbia), Mandy Moore (Epic), Jon Secada (550 Music/Epic), Pete
Townsend (The Who), Jamelia, Kelly Osbourne, Sarah Harding (Girls Aloud), etc.

His voice is most well known by the eight million people every weekday morning in the UK who hear the great jingles he sings for the Chris Moyles BBC Radio One Breakfast Show.

You'll catch Richard singing on a lot of TV adverts and also the opening theme song for the brand new Michael Ball TV chat show.

He sang the BBC TV promo for Any Dream Will Do for Sir Andrew Lloyd Webber and also his voice recently appeared on The Friday Night Project, Big Brother Celebrity Hijak and When Moyles Met The Radio 1 Breakfast DJ's.

Richard was hired to help out in a workshop of Quadrophenia, the Musical, alongside Pete Townsend for a production to be staged at the National Theatre London with direction by Trevor
Nunn.

Most recently, Richard has been writing and recording with Hit-Makers, DJ's and Producers all over the world including Jerry Ropero, Da Hool, Ingo Herrmann, Kobbe, Tony Catania, Sinatic, Thomas Rich, Oraltunerz, Kent & Parker, Dan Sir, Dany Wild, Oliver Backens, Falko Niestolik, Ministry Of Sound, Wide Range Electric, Delicious Garden, Kosmo Records, Sumo Records, Punx Records, Clubland Records, Pias Records, and Sugaspin.
Royalty-free lifetime license
ZIP archive download