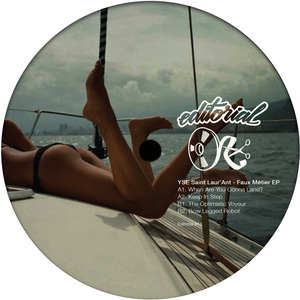 Formats:
192KB/S MP3
320KB/S MP3
WAV
FLAC
ALAC
AIFF
Review
Following outings on Popular People's Front and Whiskey Disco, Rhythm Plate man Ant Plate brings his YSE Saint Laur'ant alias to Editorial for the first time. As you might expect from a man of his experience, the quality threshold is high, and the source material obscure. He opens with the low-slung, Japanese-influenced, Tom Tom Club style disco-funk of "Bow Legged Robot", before taking things up a notch with the classic disco groove, tight horns and swirling strings of "Keep In Step". There's more classic strings and eyes-closed builds to be found on the superb "When Are You Gonna Land", which benefits greatly from a killer percussive break midway through. Finally, he serves up a delicious chunk of summery jazz-funk/disco fusion on the decidedly breezy, Brazilian sounding closer "The Optimistic Voyeur".
Get new release alerts
Yse Saint Laur'antEditorial
played by
RiCHARD.GEAR (Whiskey Pickle)
,
DAVE GERRARD
,
JimmyTheTwin
,
Stan Tropic
,
YAM WHO?
,
Superbreak
,
Kiu D
,
Juno Recommends Disco
,
Tonbe
,
Neil Diablo
,
Shota Tanaka (Beaten Space Probe)
,
TURNTILL
,
SUNNER SOUL
,
Moustache Love
,
Monkey Boots
,
Weedyman
,
BRENDON P
,
DEELICIOUS
,
That Needs An Edit/Pete Le Freq
,
Phil Disco
,
SITUATION
DRM Free
DJ-friendly full length tracks
Secure Shopping
What is Album Only?
Some artists and labels prefer certain tracks to be purchased as part of an entire release. These tracks cannot be purchased individually but are available to download as part of the release